When our editorial team gets together to decide on the next month's selection of artists for the blog, we are always faced with the same problem: the agony of choice as to who we want to feature next on 365 Fe*male MCs. One artist who made a powerful impression on our editorial team with her music – somewhere between rap and spoken word – and the expressive videos that go with it is French musician Kenny Curly.
Despite the potential language barrier, it is impossible to miss or overhear the depth in her music. In this respect, it comes as little surprise retrospectively that Kenny Curly also devoted herself to our interview with the same kind of profundity. What was originally intended as a simple request to get some background information about the artist and her current musical work, quickly turned into a very thoughtful conversation about her own musical socialization, mental health, artistic responsibility and musical visions.
Kenny, thank you very much for taking the time. You can only be called a newcomer to a certain extent, but especially in the non-French speaking context you are still rather unknown. Would you like to introduce yourself in your own words?
My name is Kenny Curly, I live in France but I was born on Reunion Island. It is a small island east of Madagascar in the Indian Ocean. I grew up there until I was around five years old, before my mother married again and moved to a small village in the Pyrenees. When I was 19 years old, I lived in Florence, Italy, for one year before I finally chose to go to Paris where I stayed for almost 16 years. Just recently, I left Paris and moved to the south of France to join my fiancé and start a new, more peaceful life.

You've already been around a lot in your life.
Well, yes… I am a traveler, a dreamer and a writer. So, probably these three words describe very well who I am.
That sounds lovely and fits you very well indeed. So, let's start from the very beginning as the readers should get to know you better as an artist. Do you remember how and when you first came in contact with music?
I have always dreamed about being creative and music has always been a special part of my life. Probably because I grew up between a lot of musicians and singers. For example, my father was a Rock'n'Roll lover and his sisters, my aunties, were punks. They have played bass and drums. Also, a lot of my parents' friends used to sing or make music as well. For me it was only the logical consequence to try it as well. But to be honest, I have a slight psychomotor problem, so playing instruments was impossible for me. At the end, my voice became my instrument.
So, out of necessity, you made the best of the situation and focused more on your voice. That is impressive. In fact, it is then quite obvious that you focused more on singing and rap. How did that come about?
I am not really confident in my singing voice because I am not a good vocal technician. I have always loved singing, but I only found my strength and my emotional intensity when I got into slam/spoken word. I mean, I have always listened to rap music, but it took me some time to get the courage to rap on my own: After three years of improving my speed and training to stay on the beat, I decided to also rap certain texts I had written. I immediately felt that with rap I was able to express another part of me much more dynamically, like my anger.
Yeah, I can totally relate to this. Even though I love punk rock, hardcore and stoner rock, rap music hits me on a different level, makes me feel more confident on another level. So, around that time, did you have some (fe*male) role models in music that you looked up to or that inspired you to start rapping yourself?
A lot of… I love the great American female rappers of the 90's like Missy Elliott, Foxy Brown, Queen Latifah, Lil Kim or Lauryn Hill. I love their styles and I have always dreamed of being as powerful as them. In France, I literally fell in love with Lady Laistee or Princess Anies when I was young. And after that, of course, the ultimate queen, the person who had planted the seed of my dream to become a rapper myself was Diam's.
Shout-out to these queens for inspiring so many people around the world with their music. So, maybe let us talk a little bit more about your music as well. In 2019, you released your first EP "Introspection" consisting of four singles which all in all can be labeled as rap/spoken word. Tell me about this process and what has inspired you to produce this EP.
I have written texts since my childhood and to be on stage was one of my biggest dreams. But as I have mentioned, I was shy and weak. So, the process of showing my face to the world on a bigger stage than just an open bar or slam session was a big step for me. I did a long introspection before that. I decided to accept my body and me as a woman and finally tried to be the best version of myself to show myself to the public. I was already 33 years old when I found the courage to show my songs to people in the music industry: It took some time till I found a good music composer and people who believed in me, so I could finally record my first EP.
As someone whose French is horrible, I can only rely on the vibes I get from the visuals and the sound of the songs as well as your voice itself. Songs and videos like "Des mots" or "Zèbre" give me very deep, angry chills and vibes. Am I wrong? I mean the title of the whole EP "Introspection" says it already… It is a very personal record, isn't it?
Yes, it is. It has four songs which reveal four key moments in my life.
Interesting. Is it ok for you to tell us more about these life turning moments?
Sure… Well, the song "Zèbre" is a revelation about my high intellectual potential which I have hidden almost all my life. I would like to explain to 'normal' people (I hate that expression) that this particularity is not really a 'super power' and can cause pain and difficulties, too. I was more in a state of anticipation and contemplation than actually living my own life, and I felt it was time to do something effective to talk about this issue. "Des mots" is a very deep song as well. I talk about harmful relations and the power of words to cause real damage, sometimes as profound as physical violence. "Introspection" is more fictive but inspired by a difficult moment in my life when I was on the verge of a mental breakdown and madness. With this song, I tried to bring up the perspective that everybody can experience something similar at a certain stage in life when routine is killing you slowly. "Le déserteur" is a metaphor for my biological father who abandoned me when I was a baby and the soldiers who desert when they are afraid to face their responsibilities. For sure, this is the most emotional song for me. I released my old demons when I recorded it.
These are some really deep topics that you are dealing with in your music. And like I said, even if you don't understand the French lyrics, you can definitely recognize the depth of them. It might be too obvious, but still, tell me: Where do you get your inspiration for your music from? Do you have a certain message or topic you want to express or address with your music?
My music is always about expressing an idea or a concept. When I write, I always have the desire to touch people deeply. I have the feeling that my pain can release their pain, too and my words may be the words they can't find or that they don't dare to express. I have a small but very close community. I am a mixture of their friend and their therapist. Like a big sister or a mama. Someone they can have confidence in..
Classical approach: music as therapy – not only for yourself but also for your community. I love that!
You've mentioned that you recently moved to the south of France. Have you been able to connect with local artists? Or is this a little bit tricky? Tell me a little bit about how you perceive the scene there.
Yes, I just moved to the south of France this past July. Actually, I was sad to leave Montreuil because it is a wonderful alternative and cultural city. Even though my music is not exactly the kind of rap you usually find in the suburbs of Paris, I felt accepted. In general, the people in Montreuil are really open-minded and they are involved in community projects. It is great! I really hope it will be the same here in the south. But let's be honest, being a woman and even more a sensitive woman in this industry is an everyday battle! I am really concerned with women's rights and it is one of my biggest concerns to use my voice for this, especially when it comes to violence and sexual abuse. I know that people don't want to hear about these horrible subjects, but I can't close my mouth. I feel like I have to use my voice! It is my mission on this earth. I don't care about how many doors will be closed to me and my music, I will find new ones and do my job.
Tell me about it. It's a daily struggle that we have to face over and over again, true. I also came across the song "FREESTYLE FBM #1" which was released in April 2021. Can you tell me more about this track? It is a collaboration of 18 MCs "against corrupt media" as it is written in the description on YouTube, right?
I follow a lot of independent rappers and Guillotine MC is one of them. He initiated the project and had posted a proposition on his social media page to explain the concept. The topic seduced me because for many years I decided to cancel TV. To be honest, I don't really trust mainstream media. So many MCs replied to Guillotine, but luckily, he chose me to be one of the 18 MCs on the project. Actually, I was also the only female MC who applied.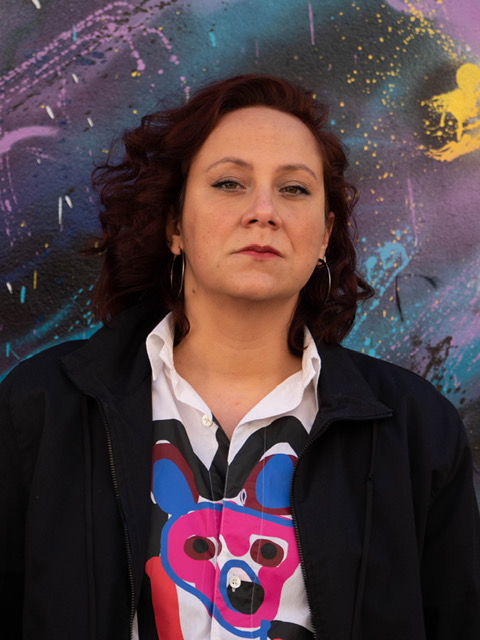 Ok, wow! How did you all manage to record the track, especially during a worldwide pandemic?
Yes, it was a little bit tricky as we all live in different places in France and Belgium. But we all found ways to record eight beats individually, even though it was still difficult to compile all the voice recordings. In the end, more than a year's work went into the track and I am very proud of the result: a seven-minute compilation of 18 freestyles from MCs united against corrupt media.
This is awesome. In fact, the track is very powerful and impressive.Our readers should listen to it! Apart from that, everyone better listen to your new album "Insovniaque" which was released today. So, first of all: Happy Release Day! How do you feel? I know that it took quite some time to set the final release day, right?
Yes, that is correct, and thank you very much!
At first, I had the ambition to release the record on December 16 2020 but due to the special situation with COVID-19, everything had been delayed: My studio was closed and it was impossible to see the friends I invited on this project. More or less, I have learned to work at a distance and be patient. I was really stressed the past weeks and months because it's just been a hard road to finish this album. But now that it is released, I am also really optimistic. "Insovniaque" is the most important and complete project of my life.
On YouTube you have this video series called "Manifeste de l'Amour Roi": What is this all about? Can you explain it a little bit, please?
I will try my best to explain to you. It is a really hard question for someone with my English level! (laughs)
Oh no, do not worry. You are doing great here, really!
Actually, "Manifeste de l'Amour Roi" is a video series I made and uploaded to explain to my community how I built my new album "Insovniaque" around the concept of my life now. I consider love a key and a powerful medicine to endure the world, so I wrote a manifesto of love. In French I named it "Manifeste de l'Amour Roi". "Insovniaque" is a concept album, built on the seven steps of mourning. I believe that every failure or difficult moment in life brings a loss or a form of mourning. In my life, I have experienced many losses, and all these shattering moments have inspired me to write. I am not just talking about those moments when someone has died. I am talking about these situations when you have to renounce the love of your life or the job of your dreams, your inspirations or a friend you really care about. All of these cases feel like a big failure, full of pain and it is a mourning that you have to overcome. Every song of my album talks about a loss and with this series of videos, I would like to ensure that my community understands: I am here for you to support you and help you with my music to go through your own problems and difficulties.
Like I have mentioned before, I want to be the shoulder my fans can lean on when they are lost because "l'amour roi".
Wow, that is some really deep stuff and also touching how much you care about your community or, in general, the people around. So, you are also not only a traveler, a dreamer and a writer, but also driven by love.
Yes, my music is a compilation of unconditional love and many other emotions. A manifesto of love.
Thank you so much, Kenny, for these lovely words and your music. Before we come to an end: 365 Fe*male MCs is meant to be a platform for all those great (fe*male) rap artists of the world. If there is anything you would like to add or say at this point that has remained unsaid or that our readers should know about you, feel free to do so now. The virtual stage is yours now.
Thank you for this interview and the job you do.Thank you in the name of all women all around the world for sharing our words and our fights. Thank you for being you and nice to meet you virtually. I send you all my feminine energy and support.
The pleasure was all mine! All the best for you and your new record "Insovniaque" – people, check it out! Thanks a lot!
Interview done by Penelope Braune.
Transcribed and translated by Penelope Braune.
Contributed images by Kenny Curly.